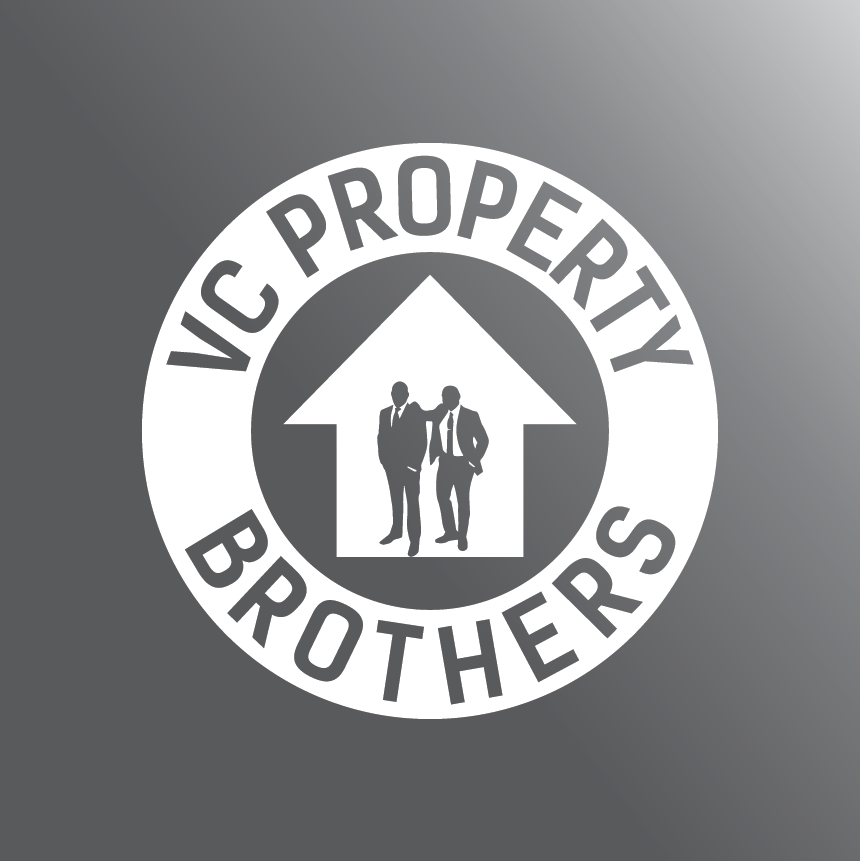 VC Property Brothers is co-op of brothers Enrique and Daniel Montaño who are both Realtors ® at RE/MAX Gold Coast Realtors in Ventura, CA. It is a take on thee popular HGTV show "Property Brothers," where twin brothers Jonathan and Drew Scott aim to help couples find fixer-uppers and transform them into their dream homes. Similarly, the "VC Property Brothers," aim to do the same, in the Ventura County market.
To start. The VC Property Brothers asked we create a logo for them, that encapsulated who they were/their essence so-to-speak. After several design variations, we quite literally took the silhouette of their main, combined, profile picture, that their existing and future marketing campaign was going to be centered around; and use that as the foundation of their logo design. It is set inside a simplified house silhouette that doubles for an "up" arrow, signifying upward mobility and prosperity both, for them and for their clients they humbly serve. Lastly, we made sure to include the VC Property Brothers title inside the logo design, surrounding the perimeter of the logo, in a circular fashion.
Now that their logo was complete, it was time to package and put-together their "Logo Style-Guide." The Logo Style-Guide is an instruction sheet that helps clients understand the various file-formats their logo is saved in and what the different uses are intended for. We at Republic Design Company pride ourselves on educating our clients on proper logo usage techniques and are always available to assist our clients on an on-going basis…
Next, it was time to move onto the design and production of their business cards. The business cards production needed to complement the 'dapper' look-and-feel of Enrique and Daniel Montaño's profile picture. They opted for a 16 point card stock with silk-laminate look-and-feel, along with spot UV gloss on certain portions of the graphics of the business cards. Included with all pertinent contact information, membership associations, charitable causes, and facebook + twitter links; the cards came-out great…
After designing and producing their business cards, it was time to start designing and producing the VC Property Brothers website,www.VCPropertyBrothers.com. We have incredible photography of Enrique and Daniel Montaño. We have a strong logo/identity/brand design already set in place. Now it was time to pool all these element, online…
We built the VC Property Brothers website on WordPress.com. We at Republic Design Company love working in wordpress because, "IT'S FREE!" Only fee our clients have to pay is the annual domain name purchase (which runs approximately $15.ºº on GoDaddy or WordPress).
The VC Property Brothers website comes fully equipped with feature video, contact page, client testimonials, instagram and facebook links. But it doesn't stop there! One of the most robust features on the VC Property Website is the integration of the sophisticated home-search service option, IDX…
IDX (Internet Data Exchange) is how MLS listings end up on a website.
Also known as Broker Reciprocity, IDX encompasses the policies, rules, and software that allow listings from the MLS database to be displayed publicly.
Anytime you see properties on a website that came from an MLS, it was made possible through IDX.
Most real estate agents and brokers use IDX to simply display MLS listings or home search tools on their website, but as home buyers have become more Internet-savvy, IDX has evolved to encompass more. Agents today have the option to use basic home search tools provided by their MLS, or build more advanced IDX solutions; usually with the help of an IDX vendor.
NOW, anyone interested in searching for properties for sale in the Ventura County area (and beyond), can go to VC Property Brothers website, and serach from a comprehsevie list of available listings!
Along with the aforementioned marketing collateral, Enrique and Daniel casually inquired if we could design their vehicles back windshield graphics. We at Republic Design Company were more-than-happy to oblige. We designed the perforated vinyl graphics and installed them to their vehicles, respectively.
We'd like to sincerely thank Enrique and Daniel Montaño for the opportunity to assist them with their Marketing needs…